If you love playing great online slots, Conquer Casino has the perfect video slot for whatever your current bug might be. We stock the best titles sourced from all the top online casino software providers including Microgaming, Elk Studios, Quickspin, NextGen Gaming and many others.
NetEnt (formerly Net Entertainment) is one of our biggest and best partners when it comes to supplying the hottest themed adventure slots. One of their most popular soon-to-be-classics is none other than Gonzo's Quest online slot.
When NetEnt first introduced this crazy and fun adventure slot in 2010 it broke the mould as to how modern video slots should look, feel and behave. The game caused a stir at its launch thanks to a great deal of buzz that surrounded many of its key features, which were ground breaking to say the least.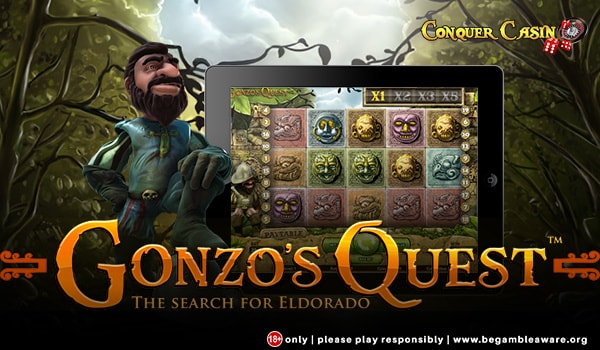 What Makes Gonzo's Quest So Different from Other Top UK Slots?
Right from the start, Gonzo's Quest carved an entirely new niche for itself that would set a trend for the video slots to come. NetEnt are clearly one of the most innovative and inventive online slots developers in the industry. What makes Gonzo's Quest different from other top UK slots? Everything!
While the game may be based on the standard five reels configuration, that's more or less where the similarity with other video slots ends. As with most NetEnt video slots, you can expect the highest standards of 3D animation that would give Pixar and other animation studios a run for their money.
The central character, Gonzo, is based on an actual historical character named Gonzalo Pizzaro, a Spanish conquistador. Of course the design team at NetEnt took this inspiration to new heights and created one of the most lovable characters ever seen in an animated video slot. While you play, Gonzo entertains in all sorts of ways, from moonwalking to cheering you on as you spin the most innovative and refreshing reels imaginable.
Innovative In-Game Features
We've raved about the innovative game reels that are one of the biggest stand out features in Gonzo's Quest and you're probably wondering what all the fuss is about. We can describe them here, but it's nothing like actually going and playing the game in our casino.
Standard video slot reels spin from top to bottom, this is basically the standard that has existed for decades. One would think that a new way to spin reels wouldn't be possible right? Well, NetEnt came up with something incredible that dropped jaws all over the web.
Instead of just spinning, the five reels in Gonzo's Quest actually fall or 'tumble' into place. To enhance this incredible feature even further, each game symbol is lose, separate from the other symbols and appear to be carved out of solid blocks of granite! Now, imagine falling or tumbling blocks of granite, each and every time you spin the reels! Once you've actually played Gonzo's Quest for yourself, you will truly appreciate just how innovative and ground breaking this game is.
Each block contains a special Inca tribal symbol and corresponding colour. As you complete winning combos, the winning blocks 'explode' into dust and are immediately replaced by more falling granite blocks. Adding more value to the incredible Avalanche Feature is the multiplier meter, which is available in the base game. Getting winning combos together will build up your multiplier meter and you can multiply your winning totals with up to 5x multiplier value.
Try Gonzo's Quest for Free at Conquer Casino!
There are loads of other great features to be discovered and enjoyed in Gonzo's Quest, including bonus rounds, free spins, falling gold coins and much more. Best of all, you can try Gonzo's Quest right now at Conquer Casino absolutely free before finding your own El Dorado and winning a fortune in gold!