Most people have probably played a Blackjack game at some point in their lives. This is because Blackjack is one of the most popular casino games in the world, and certainly a firm favourite on the Internet. The reason for its success is that it is so easy to play, with even novice gamblers being able to enjoy some winning potential. There are many versions of the game available on the Internet these days, although the standard gameplay is featured on all versions with some slight differentiations. Online blackjack replicates the gameplay of a traditional Blackjack table, although those looking for a replication of the entire experience may want to give live dealer Blackjack a try.
At its most basic level, Blackjack is about creating a hand as close to 21 as possible without going over while still beating the dealer. The live dealer game features the same gameplay and rules as its standard online counterpart, except with the added benefit of real-time action, while the live dealers and players add the social aspect that is missing from traditional online casino games. Getting back to the rules of the game, a player's hand must contain two cards whose value makes up 21 or less. If your two cards an Ace and a Ten, Queen or King, then you have Blackjack and only the same result from the dealer is enough to stop a win.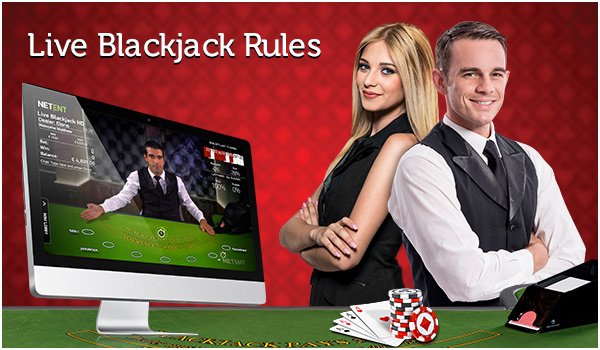 If both dealer and player have the same hand, it is considered a push and you can either receive your wager back or the hand will be replayed. Back in the day, the only hand that qualified for a Blackjack was an Ace and a black Jack, although those days are long gone. Today, any Ten or above can join with an Ace to form a winning Blackjack hand. If your first two cards equal less than 21, players will have the option to 'hit', which is to receive another card. If you are happy with your hand, 'stand' is the term to use to keep your hand as is.
Blackjack Lingo you Need to Know
During a game of Blackjack, there will be various other terms in addition to Hit and Stand that will come up and the best thing you can do is learn them all before starting your live blackjack journey as your favourite online casino.
Double – This is a move you can make that involves doubling your bet. In return, you will receive one single additional card. After you receive the card, this is the one you must keep and the dealer will then take his/her turn.
Split – You can split your hand if your first two cards have the same value. Now they become two separate hands, with a new card dealt to each hand. You can now play these two hands separately.
Surrender – Some online casinos offer the option to Surrender. This is when you fold your hand and receive your entire stake back.
Insurance – Sometimes players can take out Insurance. This happens if the dealer's upwards facing card is revealed to be an Ace. To make use of this option, you can pay an amount equal to your initial bet. If the dealer wins the hand, you will not lose the wager.
Live Blackjack offers players a more interactive, engaging and high-action experience that other versions on the Internet. This thrilling game is usually available at some of the leading online casinos, making it easily accessible to players looking for a more authentic gambling experience. The simple rules and fast-paced gameplay make live Blackjack a rising star in the world of iGaming.