Thanks to the ever-growing popularity of gambling on the internet, online casinos are constantly improving and updating its services to appeal to a broader range of players. Mobile gambling has become a leading factor in the iGaming industry, with the majority of players having access to at least one type of mobile device. Many are choosing gaming on the go as their preferred method of playing and online casinos have had to keep up with the growing trend.
These days, you would be hard pressed to find an online casino game that is not available to play on an Android or iOS mobile device. Online gamblers are really spoilt for choice when it comes to finding a casino and game to suit their needs as a host of excellent software providers work around the clock to produce brand new, innovative games on a regular basis. The mobile gaming platform is particularly active these days and an increased number of players are seeing the value of playing their favourite game wherever they are.
With the introduction of mobile casino games platforms, there's no need to be stationed in front of a computer to access a wealth of gaming opportunities. All you need is a smartphone or tablet and internet connectivity and you could access the world of gaming right in the palm of your hand. You will likely come across games that you are familiar with, so let's take a look at some pointers on how to make the most of your experience playing mobile casino games.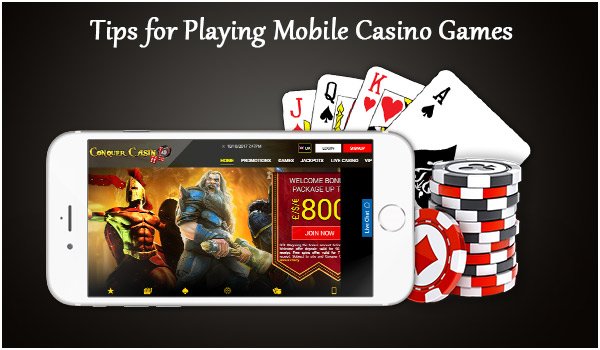 1. Consider the RTP and House Edge
If you are a regular online casino player, you will know the importance of looking for games with the best playing value. This means playing games boasting the highest return to player percentages, which is relevant to mobile players as well. Not all casino games are created equally as some guarantees a much higher payout rate than others. Generally speaking, mobile slots enjoy the highest RTP when compared to its table game or video poker counterparts. It is also worth noting that online slots are easier and more affordable to play, while table games and video poker games generally require some skill or experience to really enjoy some big wins.
2. Mobile Blackjack Playing Tips
Blackjack is one of the most popular games at online casinos and mobile gaming platforms alike. Players will find at least one Blackjack game variant at many of the top mobile casinos, although it should be noted that each variant comes with its own unique set of rules and payouts so it is important to make sure that your preferred mobile casino features the Blackjack option you enjoy. There are many variants of Blackjack available and players should take a look at the mobile casino to find the ideal variants with the best gameplay and winning opportunities.
3. How to Play Mobile Roulette Games
Another favourite at mobile casinos is Roulette as it is a game that requires absolutely no skill. This game is easy to play and features a wide betting range, giving the most novice players a real chance of earning at least a modest win at any time. Seasoned players will also enjoy plenty of winning opportunities despite the luck aspect of the game. As with Blackjack, it is important to realise that Roulette is available in a number of different variants featuring different structures, rules and payouts, which will affect the RTP at mobile casino sites. Once you have found the right Roulette version for your needs, playing on your mobile device will be a pleasant and seamless experience on par with its desktop counterparts.